Louise Dalgleish




BA (Hons) Interior Design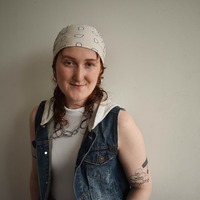 My work displays themes of a queer nature and focusses on community spaces & sex positive spaces. I prioritise intersectional design within my practice. Bound & Dorothy's were created in 2022- two projects fuelled by the knowledge of societal injustices and educational inequalities.
Dorothy's facilitates those who are unable to openly express themselves in everyday environments, and for those who wish to interact with their community without alcohol. This multifunctional venue highlights intersectionality alongside soberness- day and night. This queer sober space became Dorothy's, originating from a 1940s phrase used by LGBTQ+ individuals to unite in a safe way. Whether it's a drag performance at Strut Station or a quiet afternoon attending a flag crafting workshop in the 70s inspired cafe, Dorothy's provides something for introverts and extroverts alike. Korner Hole is a sex positive space within Dorothy's centering kink and pleasure, whilst offering a 'safe' space for sex workers and intimacy seekers. Buildings are temporary, queerness is not.
Bound exists for marginalised communities who seek gender-affirming products and improved sexual wellbeing. Unlike existing adult stores, Bound provides workshops & demonstrations catered for Trans & gender non-conforming folk. Providing a space which facilitates open conversation & 'taboo' topics means privacy is a priority and this is evident in the use of the library centred towards the door and the sheltered demo space. The materials are carefully selected to draw a parallel between pleasure and the design of the interior experience. Acoustic panels absorb sound for private conversations, meanwhile the ribbed glass dividing the workshop space to the shop creates a voyeuristic dynamic.