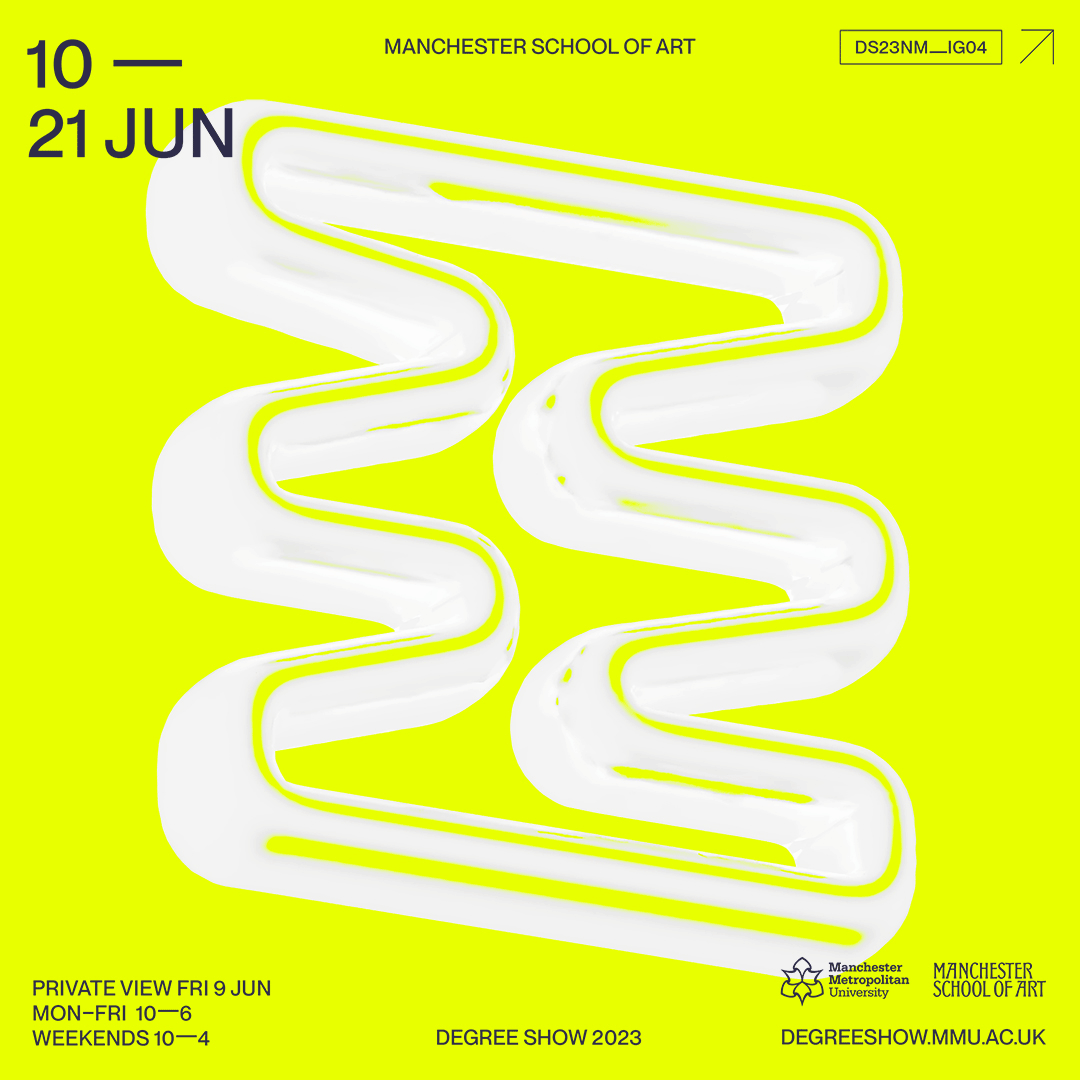 The Degree Show celebrates the achievements and talents of final year students at Manchester School of Art.
Open to the Public
Saturday 10 June until Wednesday 21 June
Saturday/Sunday 10am – 4pm
Monday – Friday 10am – 6pm
The Private View will be on Friday 9 June from 5.30pm
Information for Visitors
Location
The show will take place in the Benzie, Chatham and SODA buildings on the Manchester Metropolitan University All Saints Campus.
Building locations
Travel Information
The University does not have any car parking facilities for visitors, but there are public multi-storey car parks located near by and some limited on-street parking. The All Saints Campus is easily accessible by public transport.
Travelling to the campus
Open Day
The University will also be holding an Open Day on Wednesday 21 June, so the campus is expected to be busy on that day. Please register online if you would like to attend the Open Day.
University Open Days
Visiting Groups
We welcome group visits from schools and colleges. Groups of pupils and students visiting the Show remain the responsibility of the teachers whilst in University buildings and must be accompanied by teaching staff at all times. Please contact the Outreach Team at post16outreach@mmu.ac.uk if you require further information.
Building Access
Benzie/Chatham: The main entrance on Boundary Street West to the Benzie building and the Chatham tower is step-free with a powered door available. Lifts are available to all floors.
SODA Building: The new building on Higher Chatham Street is also fully accessible.
Grosvenor East: The building on Cavendish Street is being used for the live performances during the Degree Show and for the Manchester School of Architecture End of Year Exhibition between 17 June and 29 June. Note that the adjacent Grosvenor West building containing the Holden Gallery is currently closed for refurbishment.
Please contact reception or telephone 0161 247 1348 if you require any assistance.
Safety
University buildings are not designed to accommodate young children. Children must be closely supervised by responsible adults at all times especially on stairwells. Children and all visitors must stay within exhibition areas.
Individual Exhibits
All exhibits are individually checked and where appropriate a written risk assessment constructed. Where risks are noted the risk assessment will be available with the exhibit.
Fire Alarm
If visitors hear the fire alarm then they must immediately leave the building by the nearest emergency exit and go to the designated assembly point.
First Aid Points
The University has trained first aiders available on campus. If you need assistance please go to the building reception desk.
Security
Visitors are requested not to bring rucksacks or large bags to the Show, any bags you are carrying may be searched on entry.
Manchester School of Architecture
Architecture and Landscape Architecture students will be exhibiting their work in the Grosvenor East Building from Saturday 17 June until Thursday 29 June.
MSA End of Year Exhibition details