Avrilella Hussain




BA (Hons) Filmmaking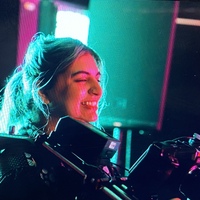 Artist | Director | Filmmaker
As an artist, I like to take my lived experience as a queer POC and experiment with narrative horror and LGBTQ themes within my work. As a director, I focus heavily on narrative-based films, with personal storytelling being the core of my films. While in 3rd year, I worked on my skills as a sound designer, working on multiple projects and developing my expertise further.
My graduate film Sweetheart focused on queer feminine rage. Dealing with the themes of homophobia and the strain it can provide to parental relationships.
In the future, I aim to develop further as a sound designer and director, focusing on my personal storytelling and world-building. "I want to create something I can also see myself in"...something I think about with each piece of work I create.