Kitty Coles-Schottlander




BA (Hons) Textiles in Practice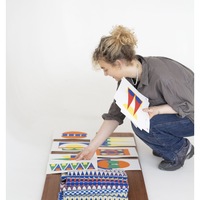 In my practice, I strive to explore the material design-based requirements of public and commercial spaces, and how that usage of considered textiles can address spacial needs. My work draws inspiration from contemporary modernist design practices for their emphasis on simplicity, functionality, and the use of new materials and technologies, and how these principles can still inspire and inform the development of innovative textile design that is relevant, and that are adaptable for contemporary needs. I use traditional, classic and multipurpose materials like cotton and wool in my work. Through using natural materials I reduce the dependence on synthetic and non-renewable resources, leading to a more sustainable and eco-friendly approach to textile design. I use vivid, vibrant colours in my work because I believe that colours have an impact on how we make use of space and aids in the engagement of our surroundings. I want to continue to challenge woven textiles, work on teams developing textiles, and use new, sustainable materials and production techniques in order to produce fun, engaging and solutionary textiles.