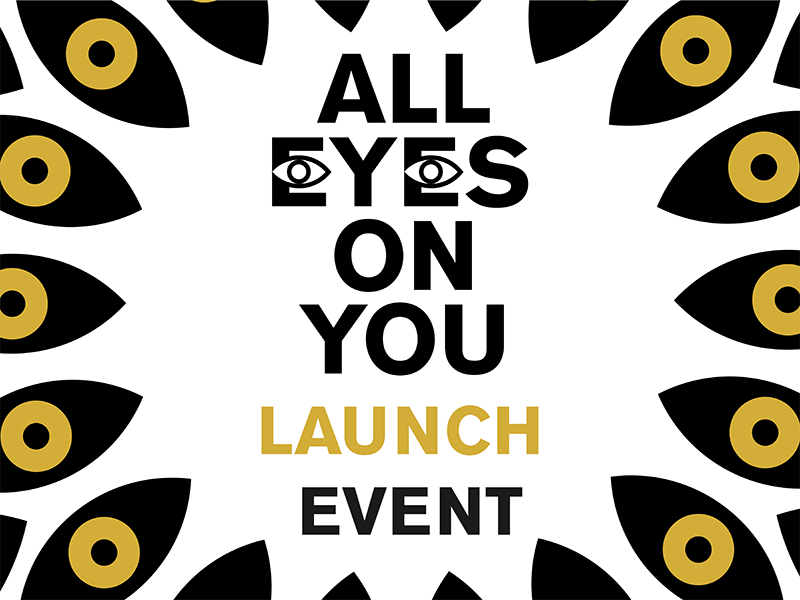 Manchester School of Art 2021
End Of Year Show Launch
Thursday 17 June, 6pm
We are delighted to welcome Es Devlin OBE and Yinka Ilori in conversation with writer and broadcaster Miranda Sawyer. Devlin, an Olivier Award-winner and Royal Designer for Industry, has worked on a range of projects across art, opera, music and technology, including the closing ceremony for the London 2012 Olympics. Ilori is a multidisciplinary artist who fuses his British and Nigerian heritage into provocative and playful furniture, and has exhibited his work across Europe, Africa and North America. The pair collaborated together recently for the Brit Awards stage and trophy. Writer Miranda Sawyer started her career writing for Smash Hits, and her writing has appeared in Vogue, GQ and the Guardian. She is now a radio critic and feature writer for The Observer.
Following this, Filmmaking graduates have come together to remix, play and bring the work of graduating students from across the Art School to the forefront of the launch of the Digital Showcase.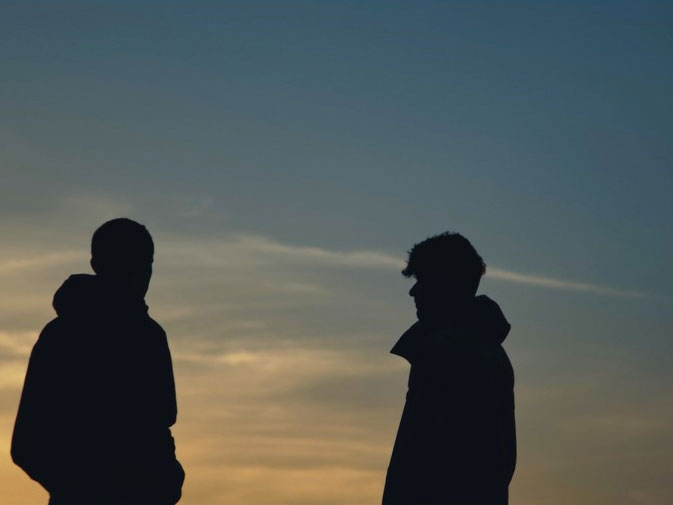 The Chaos Collective Filmmaking Showcase
Friday 18 June, 6pm - 8pm
Chaos Collective proudly presents the Manchester School of Art Filmmaking Graduate Showcase. The event celebrates the work and resilience of graduating students despite a challenging year, presenting 11 short films ranging from comedy and drama, to romance and thriller. Select films are also followed by a short Q&A with the filmmakers themselves. So, sit back, relax, and roll the film!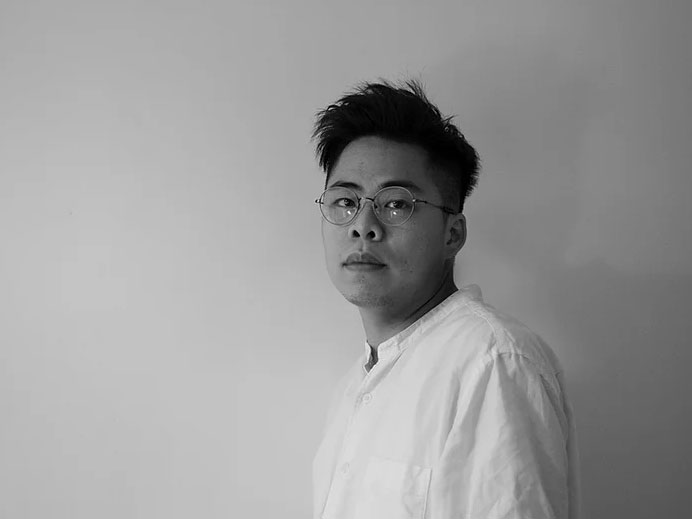 Asia as Method Talk #1
Billy H.C. KWOK: A Photographic Investigation of Taiwan
Monday 21 June, 2pm - 3pm
Join us for a talk with photographer Billy H.C. KWOK who will share his method of doing a photographic investigation into a dark chapter of Taiwan's hidden history during the political suppression and dictatorship of 1949 -1991. Dr. Yan Wang Preston, Photographer and Lecturer of Photography at University of Huddersfield will join us to have a discussion with Billy.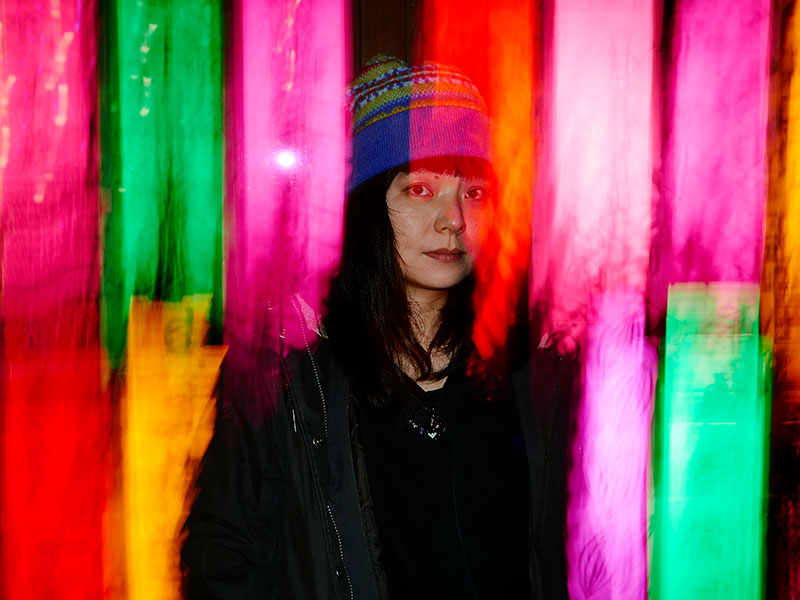 Asia as Method Talk #2
Aephie Chen: Taiwan film festival in the UK
Monday 21 June, 5pm - 6pm
Join us for this talk with Aephie Chen, founder of Taiwan Film Festival in conversation with Jason Wood, creative director of Film and Culture at HOME. 'Asia as Method' is a series of Media Talks on International Matters. Joining us over three days will be four outstanding Asian-based media practitioners. This event programme is curated by current MA Photography student Chun-Mei Wang who is interested in using cultural awareness in working across borders.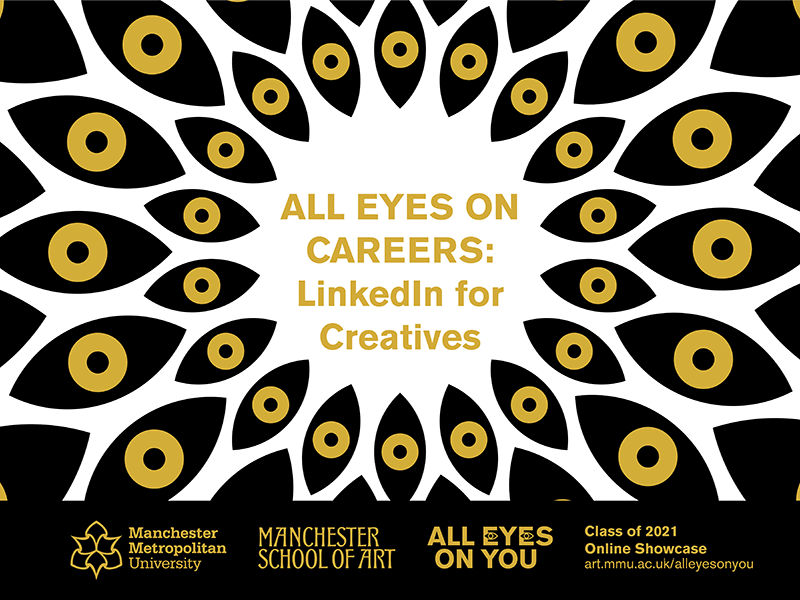 All Eyes On Careers: LinkedIn for Creatives
Tuesday 22 June, 12noon - 1pm
Get some food for thought about your next steps in this lunch hour session with Careers Adviser Carole Lee. Learn the fundamentals of LinkedIn and how to use it to network, look for jobs and to promote your creative practice.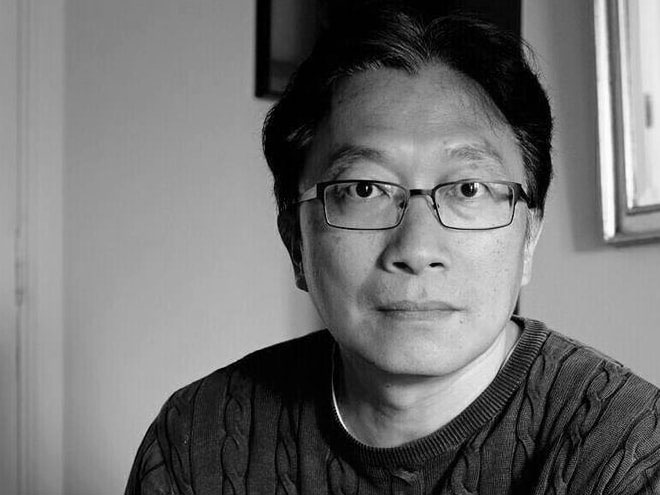 Asia as Method Talk #3
Steven V-L Lee: Organising an International photography award from a South East Asia context
Tuesday 22 June, 2pm - 3pm
Join us for a talk with founder-director of the Kuala Lumpur International Photo award (KLPA), Steven V-L Lee, where he will reveal some of his experience of organising an international photography award from a South East Asia context and how that has enabled support to Malaysian photographer's local projects. Alicia Hart, a Senior Lecturer of Photography at Manchester Metropolitan University will join us to have a discussion with Steven.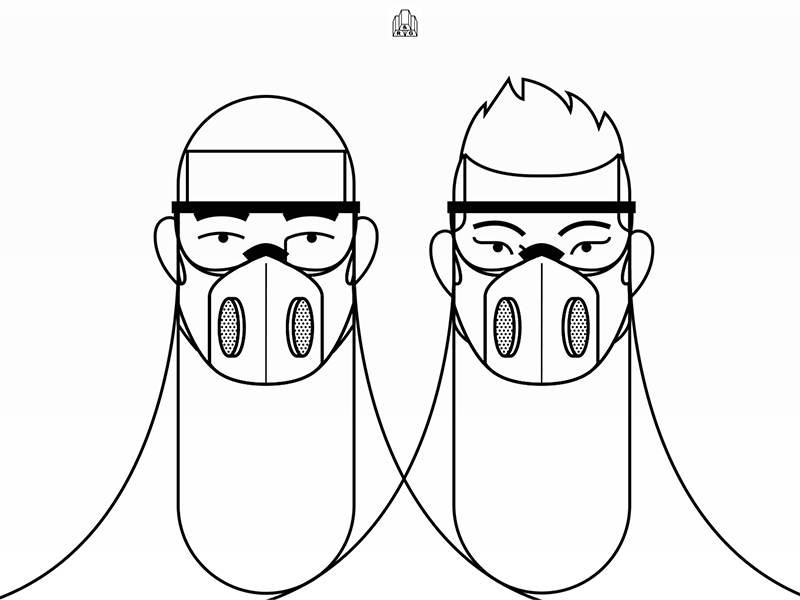 Rice & Gold Talk with Jonny and Muiz
Date to be confirmed
Join this talk with design studio Rice & Gold who have come together to create the visual identity of Class of 2021 'All Eyes On You' Digital Show. Rice & Gold is a design and art direction studio championing creative and cultural ownership. Founded by Manchester School of Art Alumni Jonny and Muiz, together they have over 20 years of combined experience in the industry working across the creative spectrum.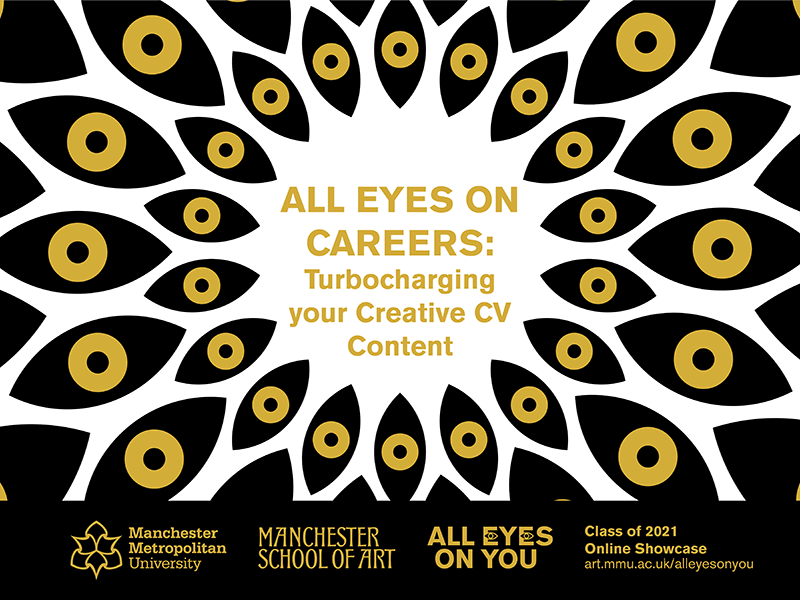 All Eyes On Careers: Turbocharging your Creative CV Content
Wednesday 23 June, 12noon - 1pm
Your CV is one way to help you secure work, but excellent design alone is not enough. Evidence of your experience and the context for how you've developed a range of skills will help you stand out from the crowd. Join us in this lunch hour session with Carole Lee, a Careers Adviser with the Faculty of Arts and Humanities, who will be serving up strategies on how to add to your work experience, address any skills gaps and make the most of opportunities while at Manchester Met and beyond graduation.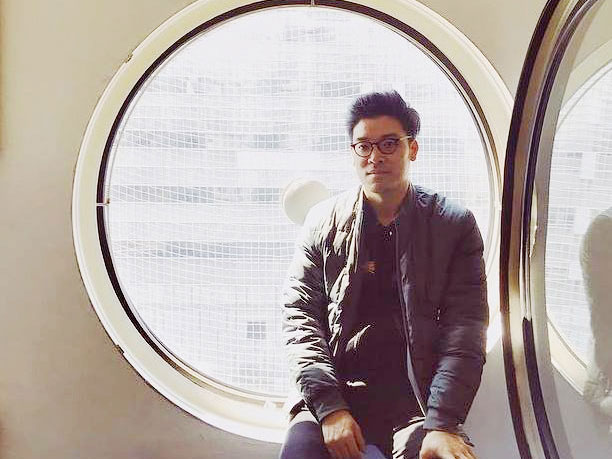 Asia as Method Talk #4
Steve Chen with Anti-Archive: Filmmaking in Cambodia
Wednesday 23 June, 5pm - 6pm
Join us for a talk with Cambodian film production company Anti-Archive's co-founder and film director Steve Chen. He will share his experience of filming in Cambodia and how his film production company Anti-Archive and his team, a group of young filmmakers, are changing the face of Cambodian cinema. Joe Duffy, filmmaker and Senior Lecturer of Filmmaking at Manchester Metropolitan University will join us to have a discussion with Steve.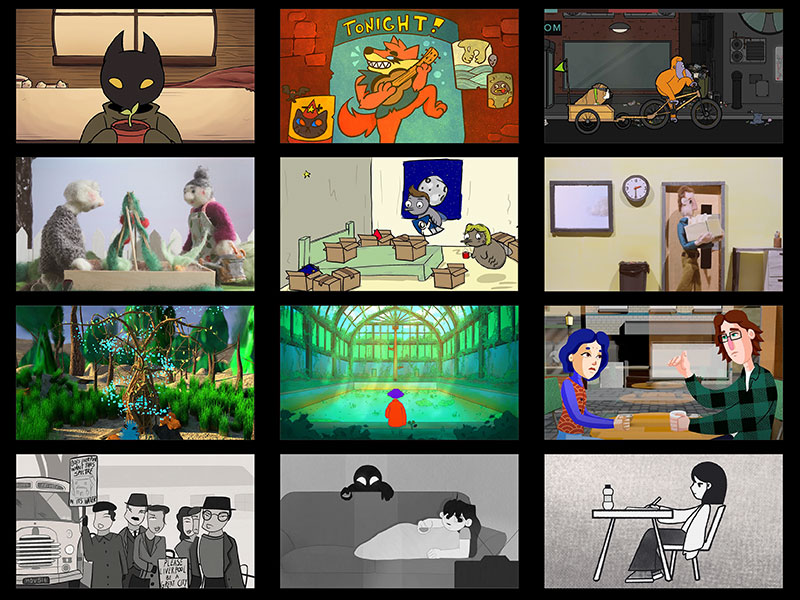 BA (Hons) Animation Final Year Screening
Wednesday 23 June, 7pm - 8.30pm
The BA (Hons) Animation third year students are inviting you to join us for a wonderful evening in the world of animation to celebrate the hard work, dedication, artistic talent and imaginative storytelling. Grab a drink and some popcorn as we welcome you to experience and enjoy our films. Q&A with the animators to follow on Zoom.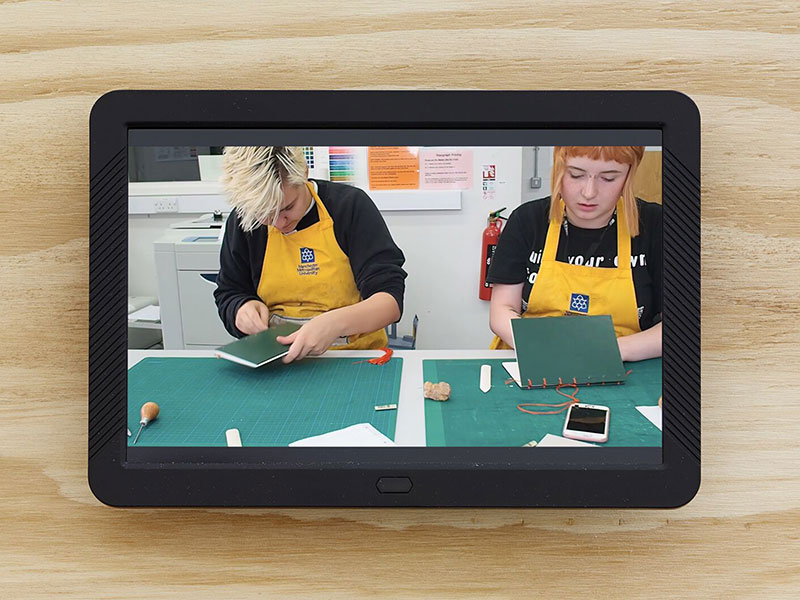 Bunker Talk #68 - Shy Bairns
Friday 25 June, 11am
Michael Pinchbeck (Reader in Theatre) interviews George Gibson from Shy Bairns for Bunker Talk #68. Shy Bairns are an artist collective interested in the intersections of contemporary art and bookmaking, and the activation of projects within that space. Their practice aims to create a conversation between artist/curator, exhibition/artwork, and viewer/reader. Print runs through the core of the practice, utilising zines, print workshops and installations to create collaborative works. They are interested in ideas of identity, community, popular culture, and interactivity, with projects ranging from exhibitions about fan culture (Fanspeak at Castlefield Gallery, Manchester, 2019), to contemplating artist development within collectives (Jerwood Arts, London, 2019). Shy Bairns is the collaborative practice of Izzy Kroese, Erin Blamire, Eleanor Haswell and George Gibson, who have worked together since 2016.
Available to watch from 11am on 25 June.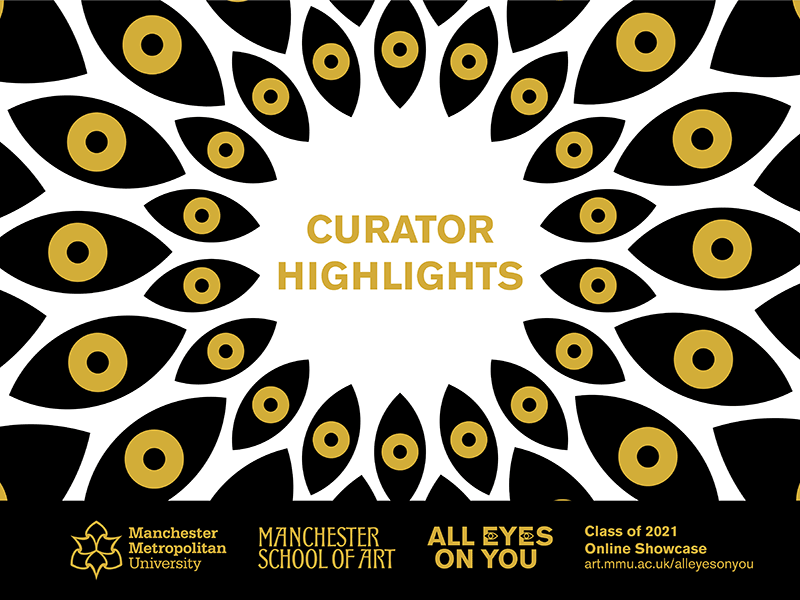 Curator Highlights
Friday 25 June, 1pm - 2pm
Three curators have been invited to select some of their favourite work from the Class of 2021 online showcase 'All Eyes On You', which are highlighted and discussed in a group conversation, hosted by Zoe Watson.
Mariama Attah is Curator of Open Eye Gallery, Liverpool and was previously Assistant Editor of Foam Magazine and Curator of Photoworks.
Emalee Beddoes-Davis is Curator of Modern & Contemporary Art at Birmingham Museum and Art Gallery.
David McLeavy is Curator at Humber Street Gallery, Hull and Founder and Editor of the web platform YAC (Young Artists in Conversation).
Event chaired by Zoe Watson, Curator of the Holden Gallery at Manchester School of Art.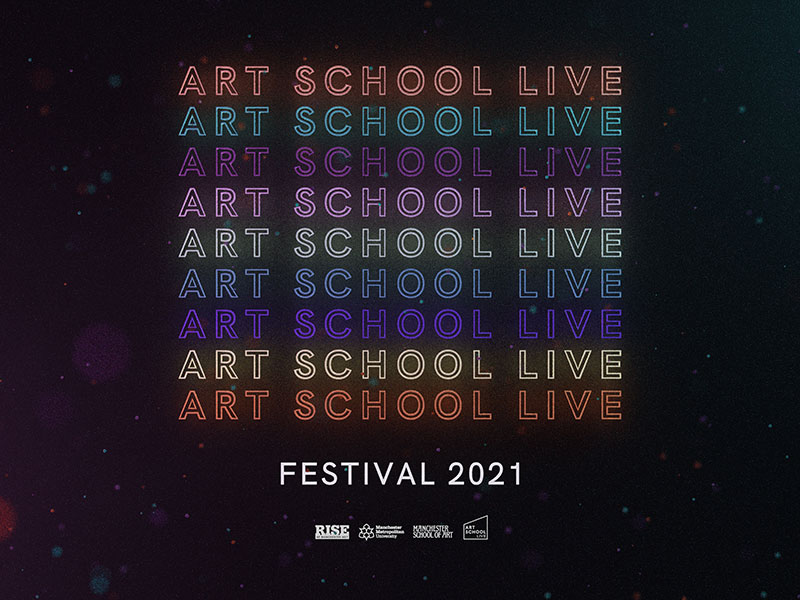 Art School Live Festival
25 - 26 June, 6pm - 9pm
Art School Live, a free live-streamed music festival, will take place on 25th and 26th of June showcasing a variety of talented musicians from the North of England. As a backdrop to each performance the Art School has worked in collaboration with the performers to line up a display of graphics and films from visual artists. This layering of talent will give audiences a "never before, never again" experience from the comfort of their own home.
The free event will be 6-9pm each day an available to watch on Youtube.
Friday 25 June Saturday 26 June
See the lineup and follow announcements on social media at: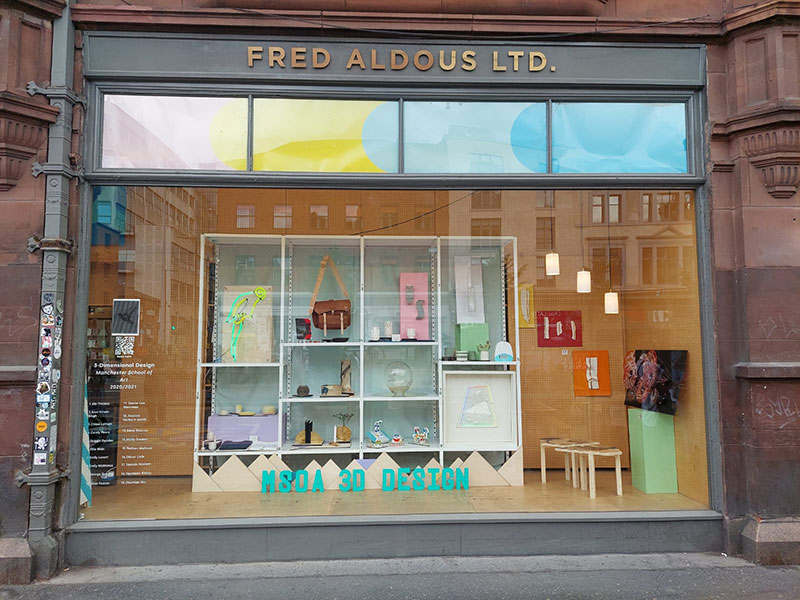 Fred Aldous Showcase – 3-Dimensional Design
9 - 27 June
37 Lever Street, Manchester, M1 1LW
Graduating students have taken over Fred Aldous windows to showcase their objects to the Manchester public. The objects range from neon parakeets that reference Manchester narratives; Joyware ceramics; 3d printed site specific walks; blown glass sculptures that draw on mindfulness and parian cast objects that utilise 3d printed mould parts. These are supplemented by augemented reality experiences of larger scale versions that are accessible through QR codes around the city.