Eleanor Aitchison

BA (Hons) Fine Art and Curating
Indistinct Chatter is consisted of three thematic survey - 'Me and You', 'Exaggerated Identity' and 'Hold', and additionally featuring an exclusive literary art by an up-and-coming Exeter based poet. The publication explores the lines between characterizing a desirable trait, such as serenity in intimacy, and finding a healthy self-preservation.
The culmination of works and artists in Indistinct Chatter represent our changing attitudes towards identity due to a global pandemic. The publication was designed to convey how we, as a society, seek out reassurance in our own identity and therefore our own relationship with ourselves. This is achieved by collaborating with six Manchester Metropolitan University Fashion Art Direction students and the literary artist through examining and showing that human touch interaction is ultimately the most important thing to us, especially during difficult times. The students were Beth Alexander, Natasha Moyse, Maya Ashton, Jasmine Jenkins, Becca Morgan and Mika Thompson. Their practices, which are predominantly photography, identifies individuality and intimacy as a central theme and so I applied this as the thread that drew the publication together.
Therefore, Indistinct Chatter, aspired to be introspective as well as a catalyst for understanding and appreciating the changing ideas and realities of our relationship with ourselves and others. Through collaboration, I hope Indistinct Chatter can be an informative and emotive reflection of necessities and capabilities of our new reality.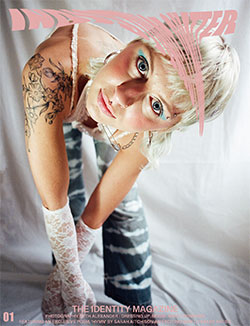 Download PDF